Raising awareness of projects, ideal for people who are taking their first step into projects and need to understand vocabulary, the fundamentals of what a project is and how it differs from business as usual.  At CITI we are constantly asked if there is something we can provide that enables people to gain the very basic understanding of projects…This option will achieve that goal. 
By the end of this session participants will be able to:
define what a project is
confidently talk about project management and use common vocabulary
ask questions regarding a project that you are a part of
participate in a project.
Interested in this session – get in touch today!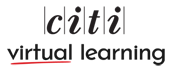 Login
Accessing this course requires a login, please enter your credentials below!