This session is about consistently defining success – it's difficult to succeed if success isn't defined usually due to a lack of clarity at initiation. It is vital to fully understand the problem, solution and value (in essence BIP), and these will contribute to and/or positively challenge the rationale for the project. CITI will take participants through the components of our well established and widely used IP the Project Mission Model™ also known as the hour glass.
By the end of this session participants will be able to:
explain why initiation is so important to overall success
explain the core of the rationale for the project.
Interested in this session- get in touch today!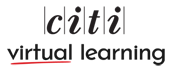 Login
Accessing this course requires a login, please enter your credentials below!