Change is the new constant in most businesses. With technological advancements and the evolving world we live in, it is imperative that we understand change, our responses to change and managing resistance to change. This two-hour session is a snapshot of understanding the main principles of change in the workplace, the change curve and navigating change using CITI's Change Diamond™ as a model.
By the end of this session participants will be able to:
understand the fundamentals of change
use the change curve to assess where people are in relation to their acceptance of change
become familiar with the CITI Change Diamond™.
Interested in this session – get in touch today!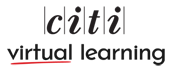 Login
Accessing this course requires a login, please enter your credentials below!